Everything you need to know about your Employer's Bento Dental Plan
Everything you need to know about your Employer's Bento Dental Plan
A Central Hub For Everything Dental
Once your employer or group's coverage starts all of your plan details and benefit utilizations are fully transparent. All in the palm of your hands.
---
In the Bento Dental app members can find a Bento Dentist, view plan documents, and share your plan with family members and dentists. Your plan documents (description of covered services) provides you with all of the details about your plan and network coverage.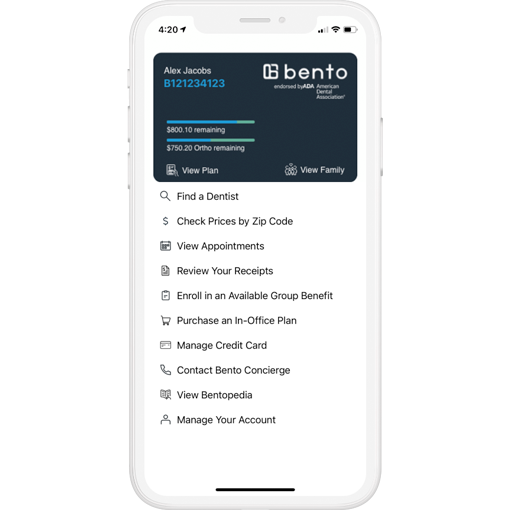 Your Bento Member ID
Whether you are visiting a Bento Dentist or going to a dentist out-of-network your ID is everything your dentist needs to process payments from your plan.
Real-time Utilization
Track your utilization and remaining balance plan on your plan's annual max (if applicable).
View + Share Plan Details
Know exactly what's covered by your plan. Your description of covered services is available at any time. View and share plan documents with dependents and dentists. 
Your Entire Family
Each dependent has their own Bento ID. View your families information directly in the app. Dependents over 19 can download the Bento Dental app and have access to their information with ease.
Pay for out-of-pocket costs directly through the app
Add a credit card to pay for out-of-pocket costs directly through the app when visiting Bento Dentists.
Bento Concierge
Contact a Bento Concierge who will help let your dentist know about your new benefit and. to answer any questions that you may have.
We're here to help!
Unlike traditional insurance carriers Bento is here for you from enrollment through payment.
While Bento has one of the fastest growing networks nationwide and is endorsed by the American Dental Association, it's still new for some dentists and office staff.
If a dentist is not familiar with Bento, do not worry. Plan members receive Bento Concierge, a dedicated support team that will work with you and your dentist to provide the best possible dental experience at every visit!
Find a Dentist
350,000+ Bento Network Access Points
Search by zip code and refine your search using a dentist name, practice name or address.
Find a dentist or specialist in the the portal below or directly in the Bento Dental app.
Frequently Asked Questions
Bentopedia is a one-of-a-kind knowledge base and resource for all things dental. Learn about common procedures, look up billing codes and see tips from dentists.
View how to's and frequently asked questions to get answers to all of your questions.
Need additional help? Contact Bento Concierge at smile@bento.net