Everything you need to know about your Bento Dental Plan
Everything you need to know about your Bento Dental Plan
Do you have an upcoming appointment? Click here to let us know, we'll call ahead!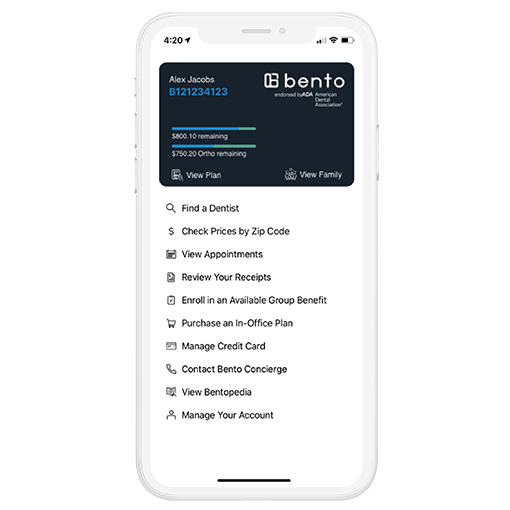 To enjoy the full modern experience download the Bento Dental app on your mobile device
Click "Sign Up"
Enter your email and create a password
Add your personal information and payment information (optional)
Click "Enroll in an available Group Benefit" to join a plan offered to you by your employer, association or group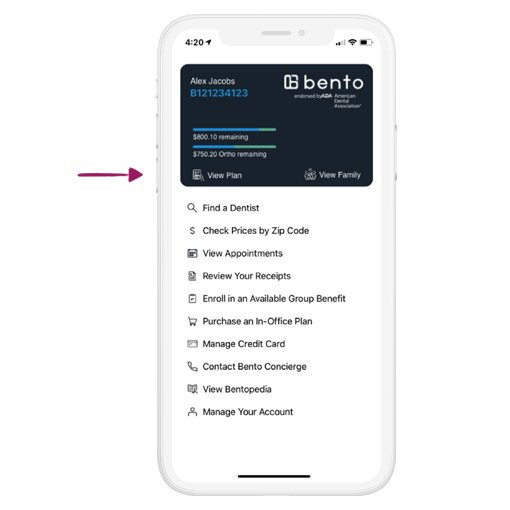 Share your Bento Dental Plan directly with your provider, even if they are not familiar with Bento, so they know exactly what your plan covers before your visit.
Your plan documents are always available instantly within the Bento Dental app. Click "View Plan" on your digital Bento Dental Membership Card. Save, email or text the plan to providers directly.
Find a Dentist
336,000+ Bento Dental Access Points
Updated Sept. 2020 | For real-time dentist lists download and search using the Bento Dental app on your mobile device.
Find or a dentist or specialist in the the portal below or directly in the Bento Dental app.
Search by zip code and refine your search using a dentist name, practice name or address.
Don't have the app? We're here to help. A Bento representative can provide recommendations or check to see if your current provider is a Bento Dentist.
Refer your Dentist to Bento!
Can't find your dentist? Is your dentist out of network?
Refer your dentist and a Bento Network Specialist will get in touch with your dentist and let them know about Bento!
What to do if your dentist is out-of-network?
Bento is the nation's fastest growing dental network. While our network team is constantly recruiting and training new dental practices, many dentists are still learning about Bento. If your dentist is not familiar with Bento please share your plan documents with them or contact Bento support. We will work with your dentist to make sure your next appointment is seamless and easy.
Your Bento Dental Plan works at ALL licensed dental providers nationwide. To get the best rates we recommend going to a Bento Dentist.
While most non-Bento dentists will file claims with Bento directly, if you or your provider need assistance filing a claim we're here to help.
After you see an out-of-network dentist the dentist will submit an ADA Claim Form directly to Bento. If your out-of-network dentist requires payment at the time of services submit your receipt or statement of services directly to Bento for reimbursement.
Should you need assistance or help at any time, contact Bento support.
Contact Bento via Phone (recommended):
Call: (800) 734-8484
Press 1 for member support.
Contact Bento via Email:  support@bento.net
Please be prepared to provide your 10-digit Bento Member ID and date of birth.
Download the Bento ADA claim form below.
Fill out the form providing the patients Bento Member ID.
Send it to Bento. Claim forms can be faxed or mailed to Bento.
Fax: (855) 214-4888
Mail: Bento Dental PO Box 9028 Boston, MA 02114
Out-of-network dentists can join the Bento Network for FREE. Signup takes minutes. To have your dentist speak with a Network Specialist have them call us at 1-800-734-8484
Upcoming appointment? Let us know!
A Bento Customer Success Representative will be happy to contact the dental office prior to the appointment to confirm your appointment details, plan information, and how payment is processed with Bento.
Answers to questions when you need them
Bentopedia is a one-of-a-kind knowledge base and resource for all things dental. Learn about common procedures, look up billing codes to understand your bill and see tips from dentists.
View how to's and frequently asked questions to get answers to all of your questions.
Need additional help? Bento's world-class customer success teams are always here to help.